Let's Connect
Hey Friend! I'm so glad you've found your way to my home on the web. I love that social media has made it even easier for us to stay connected….and for me to connect you with others in our community of life-changers, dreamers and leapers.
I use my social feeds for the purpose of inspiration, spreading the good news and helping you find power for your journey. It's also a great chance for us to hang out behind the scenes…for you to see how non-serious I really am, how much I love making my hubby blush, and how I just can't get enough popcorn!
Just a few years ago, I didn't know how I was going to pay my bills. I was emerging from the rubble of a failed engagement and the public embarrassment of calling off a wedding six-days beforehand. Little did I know that God has something bigger for me and greater in me. I've been able to talk my mess and turn it into a mission - helping everyday women dreamers, influencers, and game-changers with a big calling to walk fully in their anointing. This I know for sure....as women, we CAN turn our pain into purpose...but we just need to know how. WE all need someone to light a fire that leads us into our promise land, our next level, and our destiny. That's why I'm glad you're here. Turning setbacks into significance, and helping women just like you figure out the BIGGER thing God has for you to be and do is what I was built to do. I'm not afraid of money. I'm not afraid of the Holy Spirit. And, I'm not afraid to push you into a more prosperous life drenched in anointing and dripping with brilliance. Heaven is inviting women to step up and live bolder like never before. I'm talking about you! Make sure you go to marshawn.com today and become a member of my inner circle and take advantage of the free life class and weekly resources I send out exclusively via email. The future is calling. It's your time. Let's do this thing - and change some lives - together! Marshawn
Marshawn Evans Daniels
February 23, 2018 at 8:05am
Ah yes! So glad this is true. The crux of
#BelieveBigger
is a framework I've discovered and have been teaching called The Purpose MAP! There are 5 Stages of Purpose and Divine Reinvention that we are SUPPOSED to experience. However, most will never make it out of stage two. If you're feeling stuck and in what I call "The GAP" - a place of uncertainty, change and transition,
#BelieveBigger
was written with you in mind. When we look at our lives, we see a mess. When God looks at our lives, He sees a map. I'd love to help you get the clarity necessary to move into your calling. Pre-order your copy today at
http://BelieveBigger.com
.
Hello!  I love, love, love posting inspiration all day in 140 characters or less on Twitter at Twitter.com/MarshawnEvans.  
Let's connect.  
Friends that TWEET together transform together.  
Right?
February 23, 2018 at 3:31pm
God loves us too much to leave us or lose us so instead he splits us so that true significance can flow from within us. #believebigger https://t.co/ClH6ebJXmO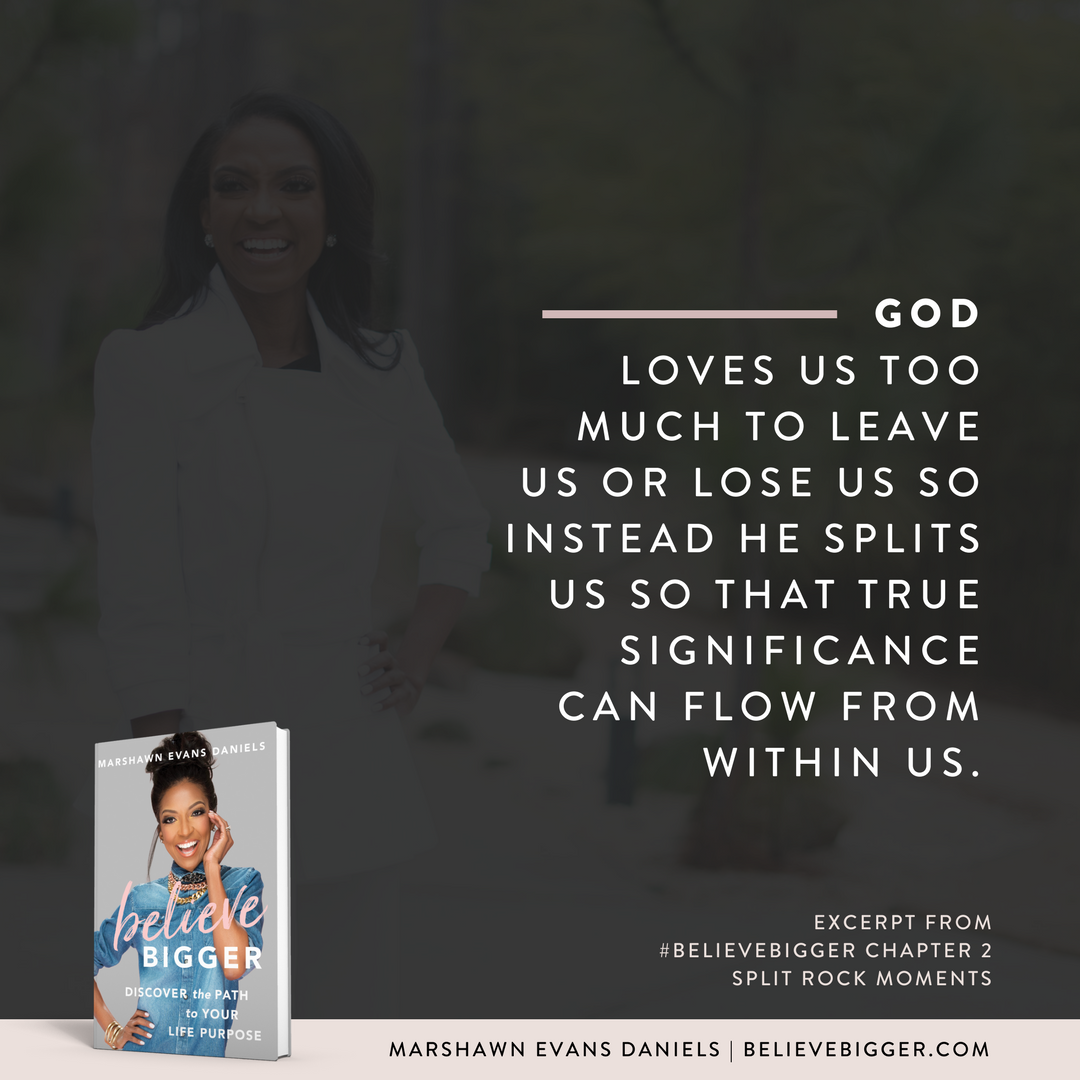 February 20, 2018 at 2:56am
So appreciative of these sweet words about #BelieveBigger from my friend and phenom...the lovely @RealMichelleW!

https://t.co/sXCnLAKBR9
#IDontThinkYoureReadyforTHISJelly 😘 https://t.co/HcJBx4wBcE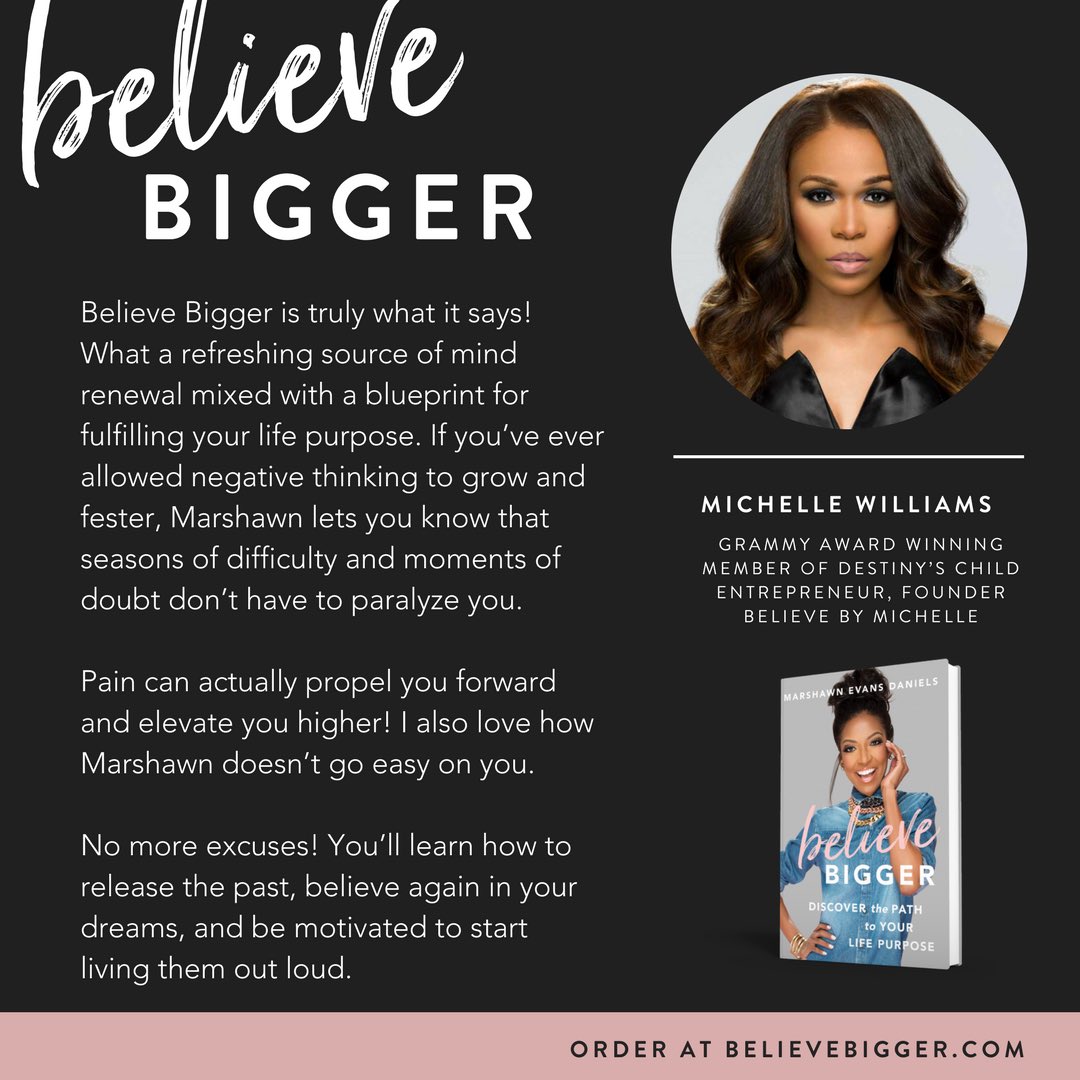 February 20, 2018 at 12:58am
WOAH!!! So #BelieveBigger is currently NUMBER 1 in the women and business category! This is such big deal - there aren't many Christian authors in this space...thank you....let's keep it going! Secure your copy at https://t.co/sXCnLAKBR9. #Proverbs31 #faithandbusiness https://t.co/DkpGQaQsDN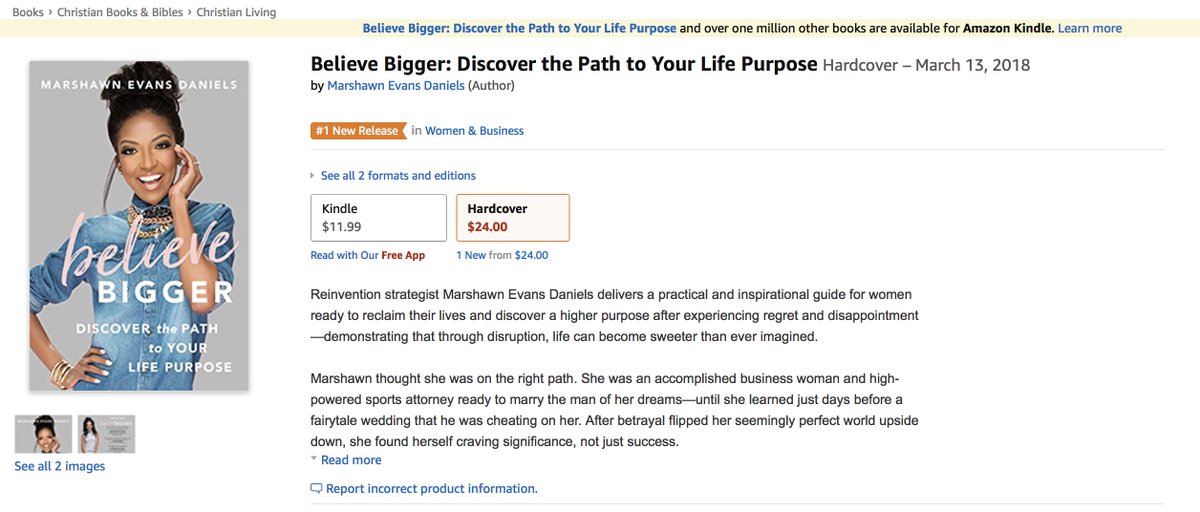 I regularly to impromptu LIVE broadcasts on faith, life, business…and everything in between.  If I'm doing a TV show or interview…hosting a live event…or prepping for a big launch…I use Periscope to take you behind the scenes.   
Oh, give your girl some hearts while you're there, okay?  
I can't want to scope with you.  Be sure to turn on your notifications so you know when I'm live. Hey…I may be on LIVE now.
Believe Bigger! Live Bolder.
Join our community of 100,000+ extraordinary women ('n some smart men, too!) and receive weekly motivation on how to manifest your full potential, influence and income.